LOS ANGELES — Neuroimaging of people with suspected stroke in an intensive care unit can help guide diagnosis and management, but often requires transporting patients to a CT or MRI scanner, which itself can be challenging.
Researchers decided to flip this scenario and evaluate stroke patients by bringing MRI technology to the point-of-care setting.
"We report here the first use of a portable, low-field MRI system to image stroke patients at the bedside. This early work suggests this approach is both safe and feasible in a complex clinical care environment," said lead author Bradley Cahn, BS, a researcher in the Department of Neurology at Yale School of Medicine in New Haven, Connecticut.
Cahn presented the findings here during at the 2020 International Stroke Conference (ISC).
Low-Field MRI Moving Toward Practicality
Neuroimaging is used extensively to diagnose, triage and, manage people who experience a stroke. Noncontrast CT and high-field MRI are the most common modalities. "MRI, in particular, allows for accurate and reliable detection of ischemia and hemorrhage," Cahn said.
Cost, availability, the need for shielded rooms, and trained technicians can be limitations to high-field MRI, he added.
"Recent improvements in hardware, software, and image reconstruction have made it possible to obtain clinically useful imaging at the point of care using a low-field magnet."
Using a point-of-care 1.5 Tesla MRI scanner, Cahn, senior author Kevin Sheth, MD, and colleagues assessed 96 adults in the neuroscience ICU. All participants presented with a clinical diagnosis of stroke or other brain injury between June 2018 and January 2020.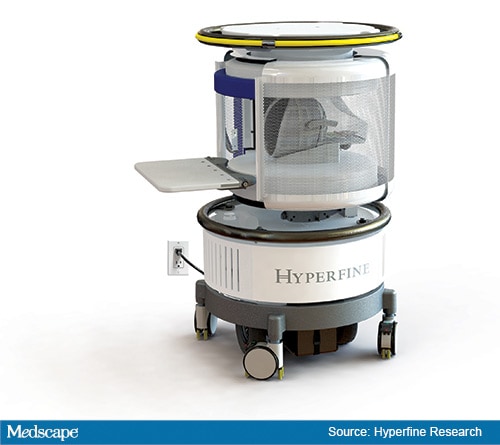 Stroke subtypes included acute ischemic stroke, subarachnoid hemorrhage and intracerebral hemorrhage. The average age was 63 years, 51% were women, and the mean NIH Stroke Scale score was 8 (range, 0 to 37).
Feasibility and Safety Outcomes
A majority, 87% of patients, successfully completed the entire exam at the bedside. The group that did not complete the imaging included 6 patients who experienced claustrophobia and 5 patients unable to fit comfortably in the scanner's 30 cm (11.8 in) opening. A full exam took an average of 29 minutes.
"The scanning did not interfere with any NICU [neurological intensive care unit] equipment in any clinically significant way," Cahn said.
The device can be plugged into a standard wall outlet and exams were performed successfully on both intubated and non-intubated patients.
No significant adverse events occurred during the study.
"It's important to note that hardware and software are continuously improving, yielding higher quality images," Cahn said.